Chairman's Message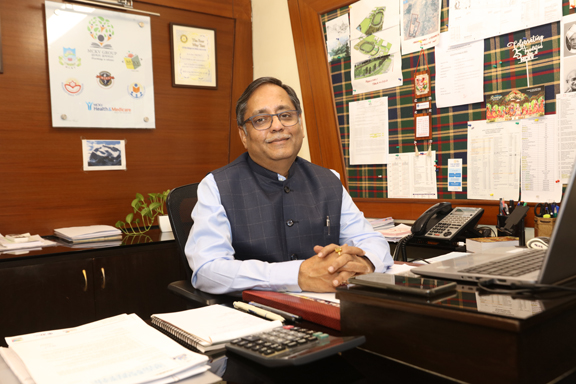 Matt Mullenweg had rightly said," Technology is best when it brings people together." Previous year, when the world was struck by a pandemic  as a deadly virus laid its icy hands, we witnessed a huge transformation in every sphere of our lives. In the beginning of the lockdown phase, when we seemed to be 'on a darkling plain' swept with dismay, struggling and fighting the odds, technology brought us together. It helped us to communicate, bridge the gap caused by this unforeseen situation. However, it was we who controlled the digital mechanisms and that resulted in miracles. We did not have to pause for a moment and our voyage of reaching out to the community proceeded unhindered. During this time, our bonding with humanity strengthened--- the humane attribute of ours came to the fore which in the mundane lives of ours had taken a back seat. We shared, cared, healed and stood by each other. Compassion, fellow feeling rejuvenated the world and motivated all to move ahead with renewed vigour.
My heart over brimmed with elation when I found the students, teachers, parents associated with the institution holding each other's hands in these trying times and marching ahead triumphantly. We all emerged heroes 'in the strife'. Our efforts reiterated the belief that ' Life is real ! Life is earnest!' Hence, we all should remain optimistic at all times. At some moments , the dark clouds of apprehension, uncertainty, dilemma may shroud or obscure our vision but the 'blessed hope' of carving a route using our experiences or life skills will sail us through those clouds. Students, I urge all of you to remain united and connected with each other even after you cross the boundaries of the school and start for a new journey of your life. This can be made possible by building an active, stronger alumni that would function with a mission to serve humanity.
Finally, I wish all of you Good Luck for your upcoming examinations. May the Almighty grace your life with good fortune so that every endeavour of yours in the pursuit of excellence is met with acknowledgement and success.
STAY BLESSED ALWAYS